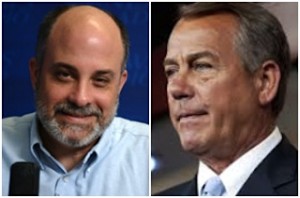 Several tea party groups are reportedly threatening to rebrand Obamacare as "Boehnercare" if House Speaker John Boehner does not back the conservative effort to defund the Affordable Care Act. And they may have taken their inspiration from radio host Mark Levin.
The Hill's Lara Seligman reports that Faith2Action and other tea party groups plan to stage a rally in front of Boehner's Ohio office Tuesday, vowing to start referring to the health care legislation as "Boehnercare" if he doesn't join the more outspokenly conservative members of his party. The move could take some pressure away from President Obama and redirect it squarely at Speaker Boehner, who has mostly attempted to abstain from comments on the law's implementation.
Levin was the first major voice to coin the term on his radio show last week. "Rather than calling it Obamacare, we should call it Boehnercare," Levin told his audience.
"So I think I'm going to call it Boehnercare, if I can remember from time to time, certainly more often, because Boehner won't even fight. Boehner, he's just-–is the word 'pathetic' appropriate?"
Faith2Action president Janet Porter agrees with Levin, telling The Washington Times, "If he funds it, he will own it."
Boehner has not yet offered his support to the conservative effort, which could include trying to shut down the government. While it seems unlikely that tea partiers will abandon the Obamacare label entirely, they are clearly trying to put more heat on the speaker.
Listen to audio of Levin's remarks below, as clipped by Mofo Politics:
[photos via MarkLevinShow.com]
—
>> Follow Matt Wilstein (@TheMattWilstein) on Twitter
Have a tip we should know? tips@mediaite.com