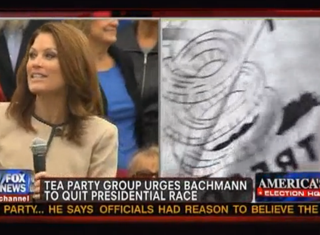 "Tea Party Candidate" Rep. Michele Bachmann is having a bit of a problem convincing the people she claims to represent that she should be their leader, at least if the leadership of American Majority is any indication. The president of that organization, Ned Ryun, released a statement today imploring Rep. Bachmann to drop out of the race, calling her a "back bencher" and warning she could hurt the movement. In response, the Bachmann campaign suggested Ryun was in the tank for Rick Perry, and played down his influence in the Tea Party.
In a post entitled "Bachmann's Floundering Can Be Damaging To The Tea Party," Ryun demands that "it's time for Michele Bachmann to go," as her campaign was too driven by social issues and, particularly, "has become less about reform and more about her personal effort to stay relevant and sell books."
RELATED: Rep. Michele Bachmann Denies Reports Her Entire New Hampshire Staff Has Quit
Meanwhile, the Bachmann campaign has responded, noting that the decentralized nature of the Tea Party means that no single opinion really counts for all that much:
"The strength of the Tea Party is all individual's opinions are valued but the no single leader speaks for it. Mr. Ryun, who supports Texas Gov. Rick Perry, is entitled to his own opinion. And that's exactly what he is expressing. Michele Bachmann enjoys strong support from Americans across party lines and that certainly includes the Tea Party. She will continue to be a strong advocate for the values and principles reflected by the Tea Party as works toward a victory in the first-in-the-nation Iowa caucuses as she seeks to win the Republican nomination."
The catch? Ryun, who wrote the post, denies supporting Perry. What's more, Ryun updated his post to add some reactions to his from the media, which he argues proves that they do not understand the point the Rep. Bachmann made about the decentralization of the Tea Party as legitimate. "There cannot be just one voice of this movement," he writes, citing one of the bigger problems he seems to have with Rep. Bachmann– her insistence that she is "the Tea Party candidate."
RELATED: Bachmann's Former NH Staff Say Her National Team Was 'Rude, Unprofessional, Dishonest, And At Times Cruel'
While the Bachmann campaign has not responded to that final quote, it is likely this won't be the final shot fired in this scuffle. There are plenty of individual Tea Party organizations open to opining as they choose on the matter, and as Rep. Bachmann continues to roll through the primary season, these will become increasingly more vocal.
A report on Bachmann's troubles with American Majority via Fox News below:
Have a tip we should know? tips@mediaite.com