Tea Party Leader And MSNBC Anchor Battle: IRS 'Not Responsible' For Obamacare, 'You Know That's Not True!'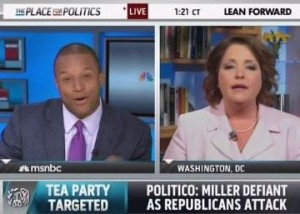 A heated argument over the facts behind Obamacare enforcement took place on MSNBC Saturday, as host Craig Melvin grilled Tea Party Express Leader Amy Kremer for making what he called untrue statements about the IRS being responsible for enforcing Obamacare.
After Kremer railed against the "disease" of big government and a "culture of corruption," Melvin fired back that we don't yet know if the IRS was targeting groups like Tea Party Express for political purposes, suggesting there is a difference between a government worker who is looking to single out tea party members versus a government worker who chose to make his job easier by using keywords to sift through 70,000 applications.
Kremer shot back that there were not "keywords" for progressives, and pointed to progressive groups, and individuals, like President Obama's brother, getting their tax exemption process sped up. Things will only get worse with the IRS enforcing Obamacare, Kremer said, asking, "will they eventually have the power to deny us healthcare?"
Melvin recoiled at Kremer's linking the IRS and Obamacare, charging, "Amy…you do that sometimes…you say things that makes sense, and then all of a sudden you throw on something at the end that sounds completely ridiculous."
"This IRS thing is completely ridiculous," Kremer shot back. "The IRS is responsible for the implementation of health care."
Melvin vehemently disagreed, asserting that the IRS is not responsible for the implementation of Obamacare, telling Kremer, "For you to say that is wrong…you know that's not true."
The two continued fighting over how much oversight the IRS will have over the implementation of Obamacare.
Watch the segment from MSNBC below:
Follow Jordan Chariton (@JordanChariton) on Twitter
Have a tip we should know? tips@mediaite.com