Tea Party Nation Founder Slams GOP Leaders For 'Sitting There' Instead Of Taking On Fast & Furious Scandal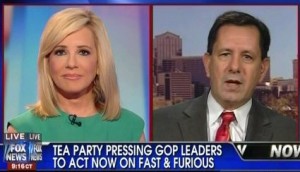 Judson Phillips, the founder of Tea Party Nation, appeared on Fox News this morning and called out top Republican leaders in Congress for their inaction on the Fast & Furious gunrunning scandal. Phillips accused GOP leaders like John Boehner and Eric Cantor of just "sitting there" and "not picking a fight with the president" instead of making the case a priority.
RELATED: Eric Holder Admits To Congress: Fast And Furious Was Executed 'Extremely Poorly'
Jamie Colby reminded viewers of Fast & Furious and its link to several deaths, including the murder of a U.S. border agent. She asked Phillips if the support of an investigation was a purely partisan one. Phillips said it goes back further than that, because the entire Fast & Furious operation was a partisan one. He accused the Justice Department of running a "purely political operation" as opposed to a "law enforcement sting," suggesting that anyone who supported it bought into the belief that American guns are being sent into Mexico and that's what's causing all the gang violence, which Phillips said could ultimately lead to a push for stricter gun control legislation.
Phillips did credit Congressman Darrell Issa for his commitment to keeping the scandal afloat despite Attorney General Eric Holder's "stonewall," but he did express some displeasure with how the rest of the Republican party in Congress has not been similarly adamant. He called out Boehner, whom he said frequently "hauls up his freshly-laundered white flag of surrender," and Cantor for not taking more action on this issue.
"The Republican leadership were just kind of sitting there, and that's really a pretty accurate story. What my friends in Washington tell me is that Boehner says what he learned from the 1995 government shutdown is 'you never pick a fight with the president.' Well, here's my question: if you're not going to pick a fight with the president, especially when you've got an issue like this Fast & Furious operation… if you're not going to pick a fight with the president when it's something that's really really important, what are you doing there?"
When asked if this scandal would have any weight in the presidential election, Phillips admitted that the economy is going to be more front-and-center, though he did add that a lot of people are still very concerned about this issue.
RELATED: Driving The News: Fox Covering 'Fast & Furious' 10 Times More Than MSNBC And CNN
Watch the video below, courtesy of Fox News:
Have a tip we should know? tips@mediaite.com
Josh Feldman - Senior Editor