Tearful Andrew Sullivan Praises Obama: 'Father-Figure' Saying 'I'm Fully A Part Of This Family'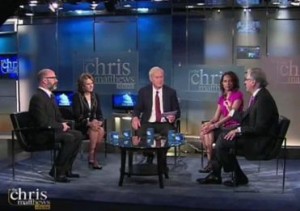 On Sunday's The Chris Matthews Show, a panel including Andrew Sullivan, Newsweek contributor and writer of "The First Gay President" which was published alongside cover art featuring President Obama adorned with a halo. Sullivan described Obama' words in emotional terms, saying that hearing Obama saying "I am his equal" was a transformative moment. "To hear the president who is in some ways a father figure speak to that – the tears came down like with many people in our families," said Sullivan.

RELATED: Newsweek: Obama 'First Gay President'
Matthews opened his panel by playing a clip of ABC's Tuesday interview with Obama in which he embraced the right of same sex couples to marry. He first asked Sullivan, who has written the cover article on this week's Newsweek Magazine entitled "The First Gay President" which lauds Obama's move on gay marriage.
When asked how important Obama's move was, Sullivan responded "hugely important" and said he didn't know how important it would be until it happened. Through muted tears, Sullivan explained the impact of Obama's announcement for gay Americans like himself:
"Beforehand, I was kind of steeled. I was like, 'I didn't care; he's going to disappoint us again.' And then I sat down and watched our president tell me that I am his equal. And that I'm not going outside – I'm fully part of this family. And to hear the president who is in some ways a father figure speak to that – the tears came down like with many people in our families."
"I never understood the power of a president's words until that day," Sullivan continued. "This man saying, 'I'm with you. I get it. You're like me. I am like you. There is nothing between us.'" Sullivan went on to say that the gravity of that moment was "overwhelming."
Matthews said that, if there is any opposition to Obama's move, it would come from an older demographic. Huffington Post Editorial Director Howard Fineman said in response that there will be an attempt to "exploit this."
"Republicans are divided on this," said Fineman. He said Obama's move split the Republican party, some of whom are supportive of gay marriage while some are not. "The studied calm and caution of the Romney people I thought was instructive," said Fineman.
Gloria Borger, CNN chief political analyst, said that Obama gains young voters out of this move and loses older voters – ending in a wash. Sullivan agreed, interjecting that this is a "small 'c' conservative" issue, getting government out of the business of marriage.
"What [Obama has] done with Romney is make this a stark choice," said Sullivan. When the issue of Romney's alleged bullying incident came up, Sullivan called it "ugly stuff."
"It's the powerful punishing the weak," said Sullivan. "I think it's a character issue."
Watch the segment below via The Chris Matthews Show:
Have a tip we should know? tips@mediaite.com