Sen. Ted Cruz And Ingraham Blast Obama For 'Trying To Take Advantage' Of Newtown Tragedy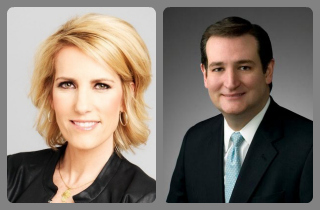 On the The Laura Ingraham Show Wednesday, Senator Ted Cruz (R-TX) blasted the Obama administration on gun control, as well as critics of the planned gun control filibuster. Cruz and thirteen Republican Senators sent a letter to Senate Majority Leader Harry Reid on Monday, threatening to filibuster Reid's gun control legislation that would, among other things, expand background checks on gun purchases. President Obama supports Reid's bill. Ingraham referenced the "gun control mania" on Capitol Hill.
Some, including Senator John McCain (R-AZ), have criticized the threat of a filibuster. To that, Cruz responded:
We are obviously having a debate on this. I think having a debate on this is important… The question is not whether we have a debate, because that's what we're doing right now, the question is whether it should be a 50-vote threshold or 60-vote threshold. In my view, for any legislation that is potentially infringing the Bill of Rights, taking away our Constitutional protections, I think it should be a 60-vote threshold and that's what I and a number of other senators are asking for is a 60-vote threshold and we're insisting upon that….

[T]he criticism has been silly…. We are having a debate and we're going to have a vote. We are going to have a vote on cloture tomorrow and we are debating it. The only question is 'What should the vote threshold be for legislation that would violate potentially the Bill of Rights?' I think it should be a minimum of 60 votes.
Ingraham and Cruz then discussed President Obama's references to the Newtown or Aurora tragedies when discussing gun control, with Cruz noting:
There is a lot of rhetoric. The Administration is, I think, really playing on emotions. What they're not focused on are actual policies that will stop violent crime…. You've got the horrific tragedy in Newtown which the administration is, I think, trying to take advantage of….

I think the President has shown that he is willing to demagogue an issue. And I think it is ultimately going to backfire politically. In fact, in my view, as a result of their onslaught on the 2nd Amendment right to keep and bear arms, I think there's going to be a very significant political consequence in 2014…. I think the stage is set for Republicans to take control of the United States Senate because of this fight right now.
Cruz argued that the Obama Administration should instead focus on prosecuting felons who attempt to illegally purchase guns, noting:
In 2010, there were over 15,000 felons and fugitives who tried to illegally purchase guns. Of those 15,000, the Obama Justice Department prosecuted only 44…. I think that's completely unacceptable…. Instead of doing that, they're trying to pass laws that would take away the Constitutional rights of law-abiding citizens.
Listen below:
[all emphasis in bold added]
— —
Follow AJ Delgado on Twitter >>> @missADelgado
Have a tip we should know? tips@mediaite.com