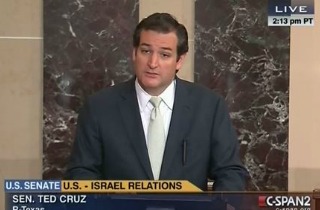 United States Secretary of State John Kerry sparked controversy and alienated Israeli officials recently when he said recently that the Jewish state risks becoming an "apartheid state" if a two-state solution is not soon adopted to resolve the Israeli-Palestinian crisis. On Monday, Sen. Ted Cruz (R-TX) called on Kerry to resign as America's chief diplomat over those comments.
"A two-state solution will be clearly underscored as the only real alternative. Because a unitary state winds up either being an apartheid state with second-class citizens—or it ends up being a state that destroys the capacity of Israel to be a Jewish state," Kerry recently told a group of senior officials from the U.S. and its allies.
RELATED: John Kerry Calls Out 'Propaganda Bullhorn' RT
"The fact that Secretary Kerry sees nothing wrong with making a statement comparing Israel's policy to the abhorrent apartheid policies of South Africa, and doing so on the eve of Holocaust Remembrance Day, demonstrates a shocking lack of sensitivity to the incendiary and damaging nature of his rhetoric," Cruz said in the U.S. Senate on Monday.
"Sadly, it is my belief that Secretary Kerry has proven himself unsuitable for the position he holds," he continued. "And, therefore, before any further harm is done to our national security interest and to our critical alliance with the nation of Israel, that John Kerry should offer President [Barack] Obama his resignation. And the president should accept it."
Watch the clip below via C-SPAN 2:
[h/t WFB]
[Image via screengrab]
— —
>> Follow Noah Rothman (@NoahCRothman) on Twitter
Have a tip we should know? tips@mediaite.com