Ted Cruz Compares Obama to His 3-Year-Old Daughter: 'Stop Hitting the American People'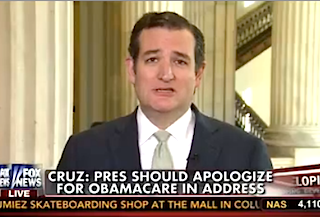 Sen. Ted Cruz (R-TX) has a suggestion for President Barack Obama's State of the Union address tomorrow night: Apologize for Obamacare. Not that he thinks the president is going to take his advice. "So you expect the president to offer an apology to those 5 million plus Americans tomorrow night?" Fox's Gretchen Carlson asked Cruz Monday afternoon, referring to those who health care plans were dropped by insurers after the Affordable Care Act was implemented.
"Well, I don't know that I expect it, but it's what he should do," Cruz responded, "if he was giving an honest and straight-forward State of the Union address."
"Over 5 million people trusted President Obama when he said, 'if you like your health insurance plan, you can keep it, if you like your doctor, you can keep your doctor,'" Cruz continued. "We now know that statement wasn't true. If he was actually taking responsibility for his actions, he would number one say, 'I am sorry,' but then number two, and number two is much, much more important, he would act to fix it."
President Obama did apologize to the American people during an interview with NBC News' Chuck Todd last November. "I am sorry that they are finding themselves in this situation based on assurances they got from me," the president said at the time. A week later, he announced a fix that would allow insurers to extend current plans that would otherwise violate the new law in 2014.
"You know, Gretchen, at home I have two little girls, a 5-year-old and 3-year-old," Cruz told Carlson, before equating the president to one or both of them. "One of my daughters punches the other. If they just say, 'I'm sorry,' and they keep hitting the kid, it doesn't mean a whole lot. For president Obama's apology to mean something, he's got to stop hitting the American people, stop taking away their health care, stop driving up their premiums, stop making it worse."
Watch video below, via Fox News:
[photo via screengrab]
— —
>> Follow Matt Wilstein (@TheMattWilstein) on Twitter
Have a tip we should know? tips@mediaite.com