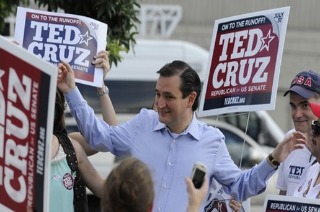 According to a report by National Review's Robert Costa, Freshman Sen. Ted Cruz (R-TX) is talking to friends and political backers about mounting a bid for the presidency in 2016. Cruz only took office in the U.S. Senate in January, but his outspoken conservatism has dominated the headlines and the report indicates that Cruz is eager to take advantage of his growing support in the GOP's grassroots.

RELATED: Morning Joe Skewers Ted Cruz For Going After GOP Sens.: A 'Jerk' Who 'Is Lying About His Own Party'
"Cruz won't talk about it publicly, and even privately he's cagey about revealing too much of his thought process or intentions," Costa writes. "But his interest is undeniable."
For the moment, Cruz's inner circle is small: mostly aides from his Senate campaign; his father, Rafael; and his wife, Heidi. They didn't plan on having these presidential conversations so early in his first term. Yet Cruz's rapid ascent and a flurry of entreaties from conservative leaders have stoked their interest — and Cruz's.
Costa says that GOP insiders are nervous that the party will nominate a moderate again in 2016 as they did in 2008 and 2012. Cruz's supporters say that he can serve as a "Barry Goldwater type," "but with better results."
While Costa's report indicates that Cruz has established a rapport with the party's base voters and with the activist class, it does not indicate whether Cruz has begun to establish the fundraising network he would need to mount a presidential bid. The report also notes that no one should expect to see Cruz opening offices in Des Moines any time soon.
Furthermore, the field at this early stage of the 2016 cycle is already becoming crowded. "For now, Cruz is running behind in terms of organization," Costa concludes. "But sources say that doesn't deter him in the slightest."
Read the report in National Review
> >Follow Noah Rothman (@NoahCRothman) on Twitter
Have a tip we should know? tips@mediaite.com