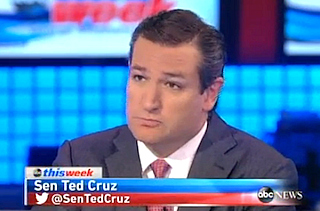 Texas Senator Ted Cruz appeared on This Week With George Stephanopoulos to denounce President Barack Obama's plan to strike Syria over chemical weapons, arguing that U.S. national security was not at stake and that the military action distracted from real security concerns over radical Islamic violence.
"One of the problems with all of this focus on Syria, is it's missing the ball from what we should be focused on, which is the grave threat from radical Islamic terrorism," Cruz said, noting that one year after the bombing of the U.S. consulate in Benghazi, the administration had not made any arrests. "We ought to be defending U.S. national security, and going after radical Islamic terrorists."
Cruz argued that the U.S. had other viable responses to Assad's use of chemical weapons that did not involve U.S. troops, proposing revoking Iraq's aid unless they restricted Syria's air rights, and putting pressure on Syria's allies China and Russia by reinstating an anti-missile station in Poland and selling fighter jets to Taiwan.
He also defended his line that a Syria attack would turn the U.S. into "al Qaeda's air force," saying Dennis Kucinich said it first and he later saw it retweeted by an airman.
Stephanopoulos asked if Obama proceeding with military strikes without congressional authorization would constitute an impeachable offense. "It would be contrary to the Constitution," Cruz said, but then added, "This is not the time for politics. This is a grave and serious moment."
Watch the full clip below, via ABC News:
[Image via screengrab]
——
>> Follow Evan McMurry (@evanmcmurry) on Twitter
Have a tip we should know? tips@mediaite.com