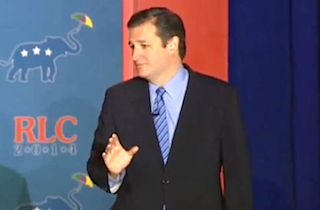 When Senator Ted Cruz (R-TX) led the charge to shut down the United States government over the implementation of the Affordable Care Act last fall, the general consensus, including among many of his Republican colleagues, was that the move would be a disaster for the GOP. But during a speech at the Republican Leadership Conference on Saturday, Cruz attempted to recast the shutdown as the one thing that could help his party take back the Senate in this year's midterm elections.
"Let me tell you right now, I am convinced we are going to retake the United States Senate in 2014," Cruz told the crowd to raucous applause. But beyond just sharing that positive outlook, Cruz wanted to delve into the reasons behind Republicans' increased political favor. "Why are so many Democrats running terrified?" he asked.
The "most compelling reason," according to Cruz, is Obamacare. He then turned to the fight that he led last year to stop the "abomination" that is the Affordable Care Act, which, after a troubled rollout, has helped more than 8 million Americans gain health insurance.
If you listen to Democrats and the media, which Cruz implied are the same thing, "they will tell you that fight last fall accomplished nothing." He may have failed to stop Obamacare from becoming law, but as Cruz said, "Not every war is won in a single battle."
By "elevating the national debate" over Obamacare, Cruz said he and his followers created an environment for conservatives to succeed in the midterms. "And somehow, all of the graybeards in Washington, who opposed fighting against Obamacare," Cruz said of his GOP colleagues, "are now looking around and we're winning Senate seats all over the country. They're reaping the fruits of the battle."
"We need to take a moment to acknowledge the lesson of the battle," Cruz said. "How do you win elections? You don't win it by standing for nothing."
Watch video below,:
[Photo via screengrab]
— —
>> Follow Matt Wilstein (@TheMattWilstein) on Twitter
Have a tip we should know? tips@mediaite.com