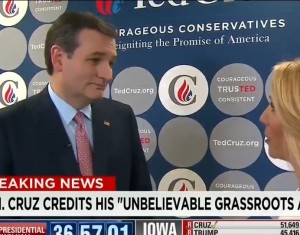 Recent Iowa Caucus victor and Republican presidential hopeful Sen. Ted Cruz (R-TX) isn't exactly known for authenticity, but you might think that on the occasion of his convincing victory over Donald Trump in Iowa, he could give it a rest for more than thirty seconds. Apparently not. Mere seconds into his post-victory interview with CNN's Dana Bash, already deep into his motivational-speaker-who's-also-trying-not-to-wake-up-napping-toddlers character, Cruz casually dropped this whopper:
I'm focused on our victory tonight, and the fact that courageous conservatives across Iowa, all across the country generated the most votes ever given to any Republican victor in a Republican primary. That is an unbelievable grassroots army.
He's right, that is unbelievable, because it's absurdly untrue. Ted Cruz got about 52,000 votes Monday night in the Iowa caucuses, which aren't even a primary, and which doesn't even beat the number of votes Ron Paul got in New Hampshire in 2012. There are states where 52,000 votes won't get you a participation ribbon.
What is true is that Cruz received a record number of votes in the Iowa caucuses, which is also true of Donald Trump and Marco Rubio, each of whom eclipsed the previous record of 40,954 that was held by Mike Huckabee in 2008.
That's a pretty impressive accomplishment, yet Cruz just has to push it that little extra bit, probably in hopes that someone will call him out for it, and he can accuse them of twisting his words by quoting him with complete accuracy. If that's how it's going to be, then it might as well be the number one writer at the internet's biggest website that does it.
Have a tip we should know? tips@mediaite.com