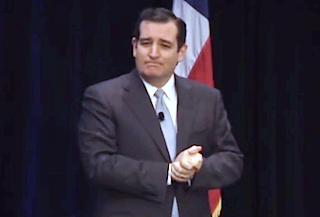 Senator Ted Cruz (R-TX) delivered the keynote address at the Texas Public Policy Foundation's Policy Orientation this week. And before he criticized President Barack Obama's drug policy, he joked about the brownies the conference attendees enjoyed that morning coming from the state of Colorado.
"A whole lot of folks now are talking about legalizing pot," Cruz told the crowd. "The brownies you had this morning, provided by the state of Colorado." Once the laughter had died down, Cruz turned serious, castigating the Obama Administration for its approach to drug crimes.
"You can make reasonable arguments on that issue," he said of marijuana legalization. "The president earlier this past year announced the Department of Justice is going to stop prosecuting certain drug crimes. Didn't change the law."
"You could go to Congress, you can get a conversation, you could get Democrats and Republicans who would say, 'We ought to change our drug policy in some way,' and you could have a real conversation, you could have hearings, you could look at the problem, you could discuss commonsense changes that maybe should happen or shouldn't happen," Cruz continued. "This president didn't do that. He just said, 'The laws say one thing' — and mind you these are criminal laws, these are laws that say if you do 'X, Y, and Z' you will go to prison. The president announced, 'No, you won't.'"
Cruz then moved on to talk about Obamacare without offering any specifics about how he would address the difficult issue of prosecuting — or not prosecuting — drug offenses that are illegal at the federal level but legal in states like Colorado.
Watch video below, via TPPF:
[h/t Raw Story]
[photo via screengrab]
— —
>> Follow Matt Wilstein (@TheMattWilstein) on Twitter
Have a tip we should know? tips@mediaite.com