Ted Cruz: Media 'Tizzy' Over Birth Certificate Must Mean I'm 'Doing Something Right'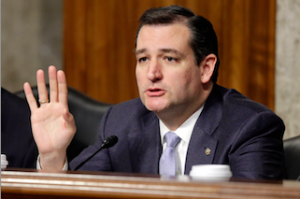 Sen. Ted Cruz (R-TX) shed some light on why he decided to release his birth certificate Monday during a radio appearance with Republican strategist Mary Matalin. Cruz said simply that a reporter asked and he delivered, but added that the media "tizzy" surrounding the issue could be a sign that he's doing something right."
"If it weren't true that you were the most skilled, most threatening, most scary thing to Democrats," Matalin suggested, "you would not have had to release your birth certificate." The idea that the freshman senator's birth in Canada could potentially bar him from running for president in 2016 was debunked this weekend when Cruz released the document to the Dallas Morning News showing that his mother was an American citizen.
"A reporter asked for a copy of my birth certificate, so we said sure and gave it to him," Cruz said dismissively. "I will admit, I find the tizzy in the media a little bit amusing. And I suppose that the fact that The New York Times is this hysterical after me only having been in office about eight months–maybe that's a sign that we might be doing something right."
It appears that of all the coverage Cruz has received from the Times this summer, editorial page editor Andrew Rosenthal has been the only writer to touch the birth certificate issue. The only other coverage in the paper concerning the issue came from The Texas Tribune's Ross Ramsey. Cruz declined to get into the "legal debate" over whether he is, in fact, eligible to run for president in the U.S., but did confirm that he is a "citizen by birth."
One can only hope that this will satisfy Donald Trump.
Listen to audio below:
(h/t Mofo Politics) | [photo via HuffPost]
—
>> Follow Matt Wilstein (@TheMattWilstein) on Twitter
Have a tip we should know? tips@mediaite.com