Ted Cruz Praises Sarah Palin On Fox For 'Fearlessness': Helped GOP Discover 'A Backbone'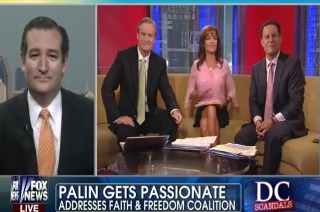 Former Alaska Gov. Sarah Palin made her first appearance on Fox News on Monday after being resigned as a contributor with the network. Sitting down with the hosts of Fox & Friends, Palin questioned Sen. Ted Cruz (R-TX) about the revelations surrounding the National Security Agency's communications monitoring regime. During that interview, Cruz praised Palin for serving as an example to conservative politicians and the "fearlessness" with which she has "advocated conservative principles."

Palin recently told a crowd in Washington that she wished the federal government would spend some time on "cruise control… Ted Cruz control." She clarified that what she meant was that she hopes his fellow senatorial colleagues would "let him speak."
"I certainly think it would help if we got back to the principles our county was founded on," Cruz replied.
RELATED: She's Back: Sarah Palin Rejoins Fox News As Contributor
Cruz said that he is witnessing a more robust anti-establishment sentiment in Congress and commended Palin on setting an example for others to follow in that regard. He said to Palin that he "the fearlessness with which you've advocated conservative principles." Cruz added that it was likely Palin's example has helped some Republicans who have "magically discovered a backbone."
Turning to the NSA scandal, Cruz said that he was concerned about those revelations but urged that the public "not rush to judgment about the entire program."
"Part of the problem is that we've seen a pattern from the Obama administration – whether it's the IRS, whether it's targeting journalists, whether it's Benghazi – of a willingness to use the machinery of government to implement political and partisan ends, and then to mislead the American people about it," Cruz said.
Cruz chided the administration for claiming that the Congress was briefed on the NSA programs. He said that only the intelligence committees were fully informed.
Watch the clip below via Fox News Channel:
> >Follow Noah Rothman (@NoahCRothman) on Twitter
Have a tip we should know? tips@mediaite.com