Ted Cruz: Protests Against President-Elect Trump Show 'Hypocrisy on Rank Display From the Left'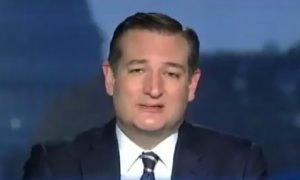 During an appearance on Fox & Friends this morning, Sen. Ted Cruz (R-TX) took shots at protesters who have taken to the streets in response to President-elect Donald Trump's victory over Hillary Clinton last week.
Noting that prior to the election many on the left were crying out that they wanted Trump to come out and say that he would accept the results of the election, Cruz called those protesting hypocrites.
"We have seen hypocrisy on rank display from the left," Cruz told the hosts. "All of the folks who jumped on their high horse and were lecturing to President-elect Trump 'You've got to accept the results of the election.'"
"Look, these are the idiots now protesting by laying down in front of cars and disrupting traffic," Cruz continued. "We had an election. The people spoke. Democracy is a powerful, powerful way of choosing."
.@tedcruz: These idiots rioting in the streets are the same people who demanded President-elect Trump accept the results of the election pic.twitter.com/8xeJCpIlAP

— FOX & Friends (@foxandfriends) November 17, 2016
Trump won the Electoral College by a fairly comfortably margin due to narrow victories in a number of swing states. At the same time, Clinton holds a substantial lead in the national popular vote, with the latest count showing her up by 1.34 million votes and rising.
Cruz, who lost to Trump in the GOP primary, was making his first appearance on the network since May 1st. Cruz waited until late September to endorse Trump for president following a contentious primary and a fiery RNC speech where Cruz told conservatives to vote their conscience.
Watch the clip above, via Fox News.
[image via screengrab]
–
Follow Justin Baragona on Twitter: @justinbaragona
Have a tip we should know? tips@mediaite.com