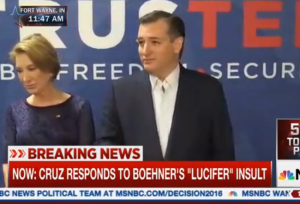 In the wild world of conservative politics in 2016, the in-fighting continued Thursday morning as former House Speaker John Boehner emphatically declared his true thoughts for Texas Senator Ted Cruz, calling him, "Lucifer in the flesh."
For good measure, Boehner also doubled back with the always casual, "miserable son of a bitch" moniker to describe the man polling in second for the GOP nomination.
In response Thursday during a press conference flanked by his new Vice Presidential pick, Cruz responded directly to Boehner's remarks, noting that the former House Speaker represents the Washington brand of typical politics the Cruz/Fiorina team is looking to bust.
Cruz remarked, "John Boehner didn't abbreviate, he was more expressive. He allowed his inner Trump to come out."
The Texas Senator noted the strong familiarity between Boehner and Trump as a justification, perhaps, for the strong anti-Cruz rhetoric that continues to permeate among GOP establishment-types:
I will say this, if you're wondering who actually has stood up to Washington I think John Boehner has made it crystal clear. John Boehner in his remarks described Donald Trump as his 'texting and golfing buddy'. So if you want someone that's a texting and golfing buddy, if you're happy with John Boehner, Speaker of the House, you want a President like John Boehner, Donald Trump is your man.
Watch the above clip from Senator Cruz's press conference in Indiana Thursday.
—
J.D. Durkin (@jiveDurkey) is a editorial producer and columnist for Mediaite.
[image via screengrab]
Have a tip we should know? tips@mediaite.com