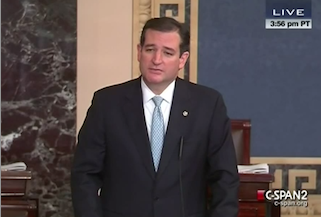 In a bookend of sorts to his 21-hour "filibuster" against the Affordable Care Act, Sen. Ted Cruz (R-TX) spoke for just under 10 minutes Wednesday evening in opposition to an imminent Senate vote that would reopen the government and raise the debt ceiling to avoid default. Cruz denounced the Senate deal as "terrible," saying it will do nothing to help the "millions of Americans who are hurting because of Obamacare."
Speaking for the "American people," Cruz said the Senate deal "embodies everything that frustrates" them about the "Washington establishment." The majority of the speech centered around Cruz's opposition to the health care law that went into effect on October 1st despite his best efforts to stop it. "This fight was always about the American people who are hurting because of Obamacare," he said. "And unfortunately today, the United States Senate is saying, 'You don't have a voice in Washington.'"
Cruz urged his Senate colleagues to oppose the deal while simultaneously acknowledging that it will almost certainly pass "by a big margin." Becoming more lyrical in his rhetoric, Cruz asked his listeners to "imagine a different world" in which his tea party followers succeeded in derailing the Affordable Care Act. He imagined a world in which all 46 Republican senators were "united against the train wreck that is Obamacare." If Senate Republicans had "simply supported House Republicans," Cruz argued, things could have been different.
By the end of his relatively short speech, Cruz said he was "optimistic" that if the American people "continue to rise up" against Obamacare, then perhaps one day the Senate will listen to them. "Mr. President, I rise in opposition to this deal that does not serve the best interest of the men and women each of us represent," Cruz concluded.
While some had feared that Cruz might attempt to effectively filibuster the Senate legislation in order to push the United States into default, he evidently decided that would be a bridge too far. But the senator did not relent before making his strong opposition to the bipartisan resolution abundantly clear.
Watch video below, via C-SPAN 2:
[photo via screengrab]
— —
>> Follow Matt Wilstein (@TheMattWilstein) on Twitter
Have a tip we should know? tips@mediaite.com