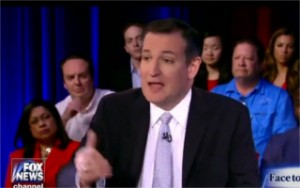 At a town hall edition of The Kelly File Wednesday night Sen. Ted Cruz took the opportunity offered by an audience member's question about Planned Parenthood to rehash several debunked lies about the women's health organization, and pledged to pardon an anti-abortion activist currently indicted for forging government IDs.
The audience member asked if Cruz would offer a presidential pardon to David Daleiden, the activist who was indicted by a Texas grand jury for the felony of tampering with government records, and Cruz responded with a full-throated affirmative. He said he was "dismayed and disappointed" at the indictment.
Daleiden allegedly created phony IDs in the service of filming his videos, which have been proven to have deceptively pieced together undercover footage of Planned Parenthood administrators to give the impression that the organization was harvesting and profiteering from the sale of fetal tissue. Daleidan, Cruz said, "had performed an incredible public service."
Daleiden's videos catalyzed a fresh wave of conservative outrage against the women's health organization and spurred several state investigations and a congressional probe, all of which failed to uncover any criminal activity. This did not stop Cruz from repeating much of the same misinformation espoused by Daleidan's disingenuously named activist organization, the Center for Medical Progress — namely that Planned Parenthood, which he repeatedly called a "criminal enterprise," seemed to be "guilty of vast criminal conduct" and that the organization was ("by all appearances," Cruz hedged) engaged in the criminal practice of selling body parts.
As has been reported repeatedly since the videos were released last summer, a small number of Planned Parenthood clinics donated fetal tissue for medical research and accepted reimbursements to cover the expenses of making such donations. Shortly after the videos were released, the organization stopped accepting reimbursements.
Cruz chuckled at Donald Trump's assertion that Planned Parenthood performs several vital services other than abortion, although abortion accounts for 3 percent of the organization's services. (Washington Post's Fact Checker disputes this figure, saying that it misleads by comparing all services — including many cheaper, more commonplace services — to abortion.) He called them the country's "largest abortionist," but did not note that they are also the country's largest provider of women's health services, including contraception services and cancer and STI/STD screenings and treatment
As the segment closed, Megyn Kelly was very quick to note that Planned Parenthood was not under any criminal charges and denied all those accusations.
[image via screengrab]
Have a tip we should know? tips@mediaite.com