Ted Cruz's Daughter Just Let Slip There's a Videotape of Him Dressed in a Pink Boa and Underwear
Ted Cruz's Daughter Just Let Slip There's Videotape of Him Dressed in Pink Boa, Underwear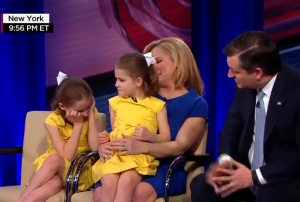 During Wednesday night's live broadcast of the Cruz family Town Hall on CNN, one of the daughters of Texas Senator Ted Cruz seems to have let it slip that there is video of her father in a bizarre wardrobe choice that his PR team is almost certainly tracking down as we speak.
The Republican candidate for President and his wife Heidi were joined by their two daughters on stage with Anderson Cooper during a late portion of the broadcast. In keeping with the Town Halls this week, which were often focused on more personal elements of the candidates and their families, Cruz discussed a recent Daddy-Daughter picnic at school. To demonstrate some of the everyday goofiness in his role as Father in Chief, Cruz relayed a harmless story of fatherly dress-up.
"She got to dress up Daddy in a pink boa and these like, big goofy-looking underwear…" explained the Texas Senator.
He was not expecting what his daughter revealed next.
"And [inaudible] it was on a videotape the whole time," she told her father, in front of millions of Americans watching at home. "And that was a class video that they're sending out to all the parents."
As the (nervous?) Cruz could only manage a "uh-oh," Anderson Cooper giggled his way through an "Oh really?" at the revelation. Heidi Cruz can be seen trying to perhaps quiet down her oldest daughter, and the note definitely thuds awkwardly with the gathered crowd.
Watch the above bizarre moment from CNN, and watch this space for the latest in the Pink Boa Footage search.
Have a tip we should know? tips@mediaite.com