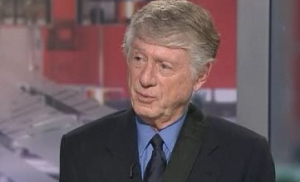 To mark the 30th anniversary of the end of the Iranian hostage crisis, Ted Koppel–whose ABC News show, Nightline, was created to cover the crisis–appeared on BBC World News America to talk about what's changed, and what hasn't.
Koppel, who joked about how he's changed in three decades (the "ravages of time," he said) and pointed out that he's currently in a sling for a torn rotator cuff, said Iran, by comparison, has only grown in power and influence.

BBC WNA anchor Katty Kay asked about the significance of the release of the American hostages: "it was the day that ended that particular crisis, but it didn't end the longer term crisis of America's relationship with Iran".
Koppel argued that Iran's never been more powerful:
"On the contrary. I think with the benefit of hindsight, Katty, we can say that the crisis which appeared to be ending on that day was really just beginning and when that one speaker at the parade said 'never again will we have an American taken hostage' unfortunately he was all too wrong…"

"The great irony Katty is that here we are 30 years after the release of those hostages, after that moment of such great jubilation, and here we are now having put the Iranians in a position they never could have achieved for themselves: the overthrow of Sadam Hussein, Iran in a much stronger position in the Persian Gulf than they have been in generations."
ABC's Nightline, which Koppel led for years after the release of the hostages, marked the anniversary with an extended lease on life. ABC announcing the landmark late night newscast would remain in its traditional 11:35 p.m. timeslot, though it would be cut by five minutes, allowing an earlier midnight start time for ABC's Jimmy Kimmel.
Have a tip we should know? tips@mediaite.com