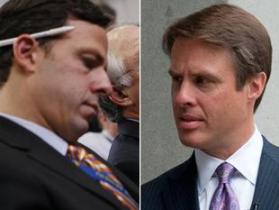 Cross Ted Koppel off the list of potential anchors of ABC's Sunday morning show This Week.
Broadcasting & Cable's Marisa Guthrie reports that, despite previous reports, talks have ended between ABC and the former Nightline anchor without an offer.
Earlier this month Politico reported Koppel was "offered" the vacant This Week job, but it was quickly denied publicly by ABC News President David Westin. Guthrie's story indicates that report may have contributed to a deal not getting done:
Sources say that ABC News President David Westin believed Koppel's camp had leaked reports of the talks. Westin was overheard complaining that it was a pattern that had made negotiations with Koppel difficult in 2005 when ABC News was in talks with him about re-formatting Nightline, the program he founded as a nightly update on the Iran hostage crisis.
There was a separate concern if Koppel had been given the job – he has gotten far more opinionated in his current role with BBC America.
So where does that leave ABC? The three other names that have been thrown around as potential anchors are the two men inside ABC News who have filled in since George Stephanopoulos officially left, Terry Moran and Jake Tapper, and one outsider, Gwen Ifill. In early December I wrote Moran was the favorite, and I still see that as the most likely move for a few reasons. He could leave Nightline and ABC News would not have to replace him, since there are already two other anchors. And he clearly is a finalist for the job, as he continues to guest anchor.
But Tapper has to be fan favorite, and his ratings have surpassed Moran's during their respective "auditions." Will it have an impact? It would be a bold move – but would also open up yet another key role at ABC News, as Chief White House Correspondent. Ifill has not appeared on ABC this year according to TV Eyes (she occasional would appear as a panelist). Read into that what you will.
—–
» Follow Steve Krakauer on Twitter
Have a tip we should know? tips@mediaite.com