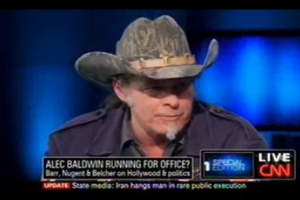 In the dead zone of programming between the end of Larry King Live and the debut of Piers Morgan Tonight, Anderson Cooper has been charged with hosting the hour, and in periodic Larry King tradition of inexplicable political round tables united rocker Ted Nugent and comedienne Roseanne Barr with actual political strategist Cornell Belcher. It didn't take long for Nugent to get inappropriate, comparing CNN to "planet of the apes" for hiring Eliot Spitzer.
The context: Spitzer's program, Parker/Spitzer, has been showcasing an exclusive interview with actor Alec Baldwin, who has been hinting that running for office is something that is of intense interest to him, and that, while New York is a difficult place to start a political career, he would love to run there. Nugent could not contain his hearty laughter– nor could he distinguish what exactly he was laughing at– "Alec Baldwin running for office or Eliot Spitzer doing the interview." "What is this, Planet of the Apes or CNN?" he mocked, to Belcher's delight and a rather uncomfortable look from Barr.
The discussion survives the jeer, however, and Nugent explains why he hasn't run for office himself after mocking Baldwin ("I'm old and I still love to tour") and ultimately commends Baldwin for his desire to participate, after all– "let the people decide." As for Barr, she'd vote for him just "because he's so handsome," which led Nugent to quip that she could sing the national anthem at his inauguration. "And you could shoot a little baby pig," she shot back.
The lively, bizarre, sometimes awkward discussion via CNN below:

Have a tip we should know? tips@mediaite.com