Ted Nugent: Obama 'Vile' And 'Evil,' Voters Should 'Chop [Democrat's] Heads Off In November.'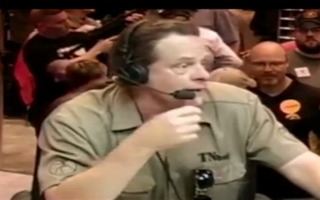 Outspoken conservative rocker Ted Nugent appeared at the National Rifle Association's conference in St. Louis where he delivered a full-throated endorsement of former Massachusetts Gov. Mitt Romney. Nugent also took the opportunity to say that President Obama is "vile" and "evil," the members of the Supreme Court "don't believe in the Constitution" and voters should "ride into that battlefield and chop [Democrat's] heads off in November."

RELATED: Kiss Frontman Gene Simmons Voices Support For Mitt Romney, Regrets Voting For Obama In '08
"Your goal should be to get a couple thousand, per person who's here, to vote for Mitt Romney in November," Nugent told an applauding audience of NRA members.
Nugent also sharply denounced President Obama, who he described as leading a "vile, evil America-hating administration" which is "wiping its ass with the Constitution."
Nugent, who is a passionate advocate of Second Amendment rights, attacked the Supreme Court of the United States as well.
"We've got four Supreme Court justices who don't believe in the Constitution," said Nugent. "Does everyone here know that four of the Supreme Court justices not only determined you don't have the right to keep and bear arms, four Supreme Court justices signed their name to a declaration that Americans have no fundamental right to self-defense."
"That sounds like a stoned hippy," said Nugent. "That sounds like an extremely intellectually vacuous punk."
Nugent warned that he would either be "dead or in jail" by this time next year, should President Obama win reelection in November. "We'll be a suburb of Indonesia next year," said Nugent.
Finally, Nugent concluded his attack on the Democratic party by saying that voters need to decapitate those politicians with whom the rock star disagrees. "We need to ride into that battlefield and chop their heads off in November," said Nugent bluntly. "Any questions?"
Watch Ted Nugent at the NRA conference below:
h/t Right Wing Watch
Have a tip we should know? tips@mediaite.com