Ted Nugent Trashes Senate's 'Feel-Good' Gun Bill On CNN: 'It Won't Stop Any Shootings, That's For Sure'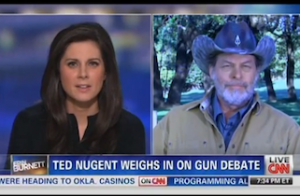 Live from Waco, Texas, Ted Nugent appeared on CNN with Erin Burnett Thursday night to discuss the latest gun control legislation that passed its first hurdle in the Senate earlier in the day. While he agreed with some of the principles in the bill when it comes to keeping guns out of the hands of the mentally ill, the gun rights advocate and rocker called it a "feel-good measure" and said he "doesn't trust the government" to handle the task.
"I don't support the bill," Nugent told Burnett at the top of their interview. "I reject it out of hand as a feel-good measure that's not going to accomplish anything. It won't stop any shootings, that's for sure."
Burnett asked Nugent more specifically about the bill in New York State that allows law enforcement officers to confiscate guns from people who are deemed mentally ill. While he said in theory that idea "would be universally supported by people who want to keep guns out of dangerous people's hands," he doesn't trust the "bureaucracy" to "accurately or responsibly or legally identify someone with mental issues."
Referring to the perpetrators of some of the most recent mass shootings in this country, Nugent said he would prefer to rely on their family members, friends and even doctors to report their dangerous tendencies, but maintained that it should not be up to the government to make those decisions. But, he admitted, "Every one of those nut jobs should have been in a cage a long time before they committed those heinous acts."
Ultimately, Nugent concluded, "I just don't trust the government. I don't trust the government that claims it's going to reduce the budget while they increase the budget." The interview then took an unexpected turn when Nugent asked Burnett if she wants to reduce gun trafficking. When she answered affirmatively, Nugent said, "Then you would support my recommendation that we arrest Eric Holder."
At that point, Burnett ended the interview, telling Nugent that while "that's your right in America to have that opinion," she does not agree with him.
"I love you madly," Nugent said to Burnett before signing off.
Watch video below, via CNN:
—
>> Follow Matt Wilstein (@TheMattWilstein) on Twitter
Have a tip we should know? tips@mediaite.com