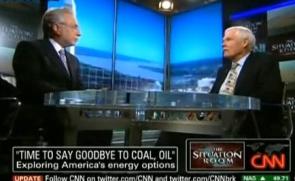 Just as Wolf Blitzer reached his 20th anniversary with CNN recently, he conducted a lengthy chat with the guy who started the network 30 years ago: Ted Turner.
The wide-ranging interview touched on some of Turner's favorite topics – energy, the environment, his success at CNN – and some topics that very clearly were those Blitzer's former CNN boss didn't want to discuss.
The first topic was about energy, and Turner was excited by some of the recent developments coming from the Democrats. He gave the Obama administration a "B" so far for their efforts, although he said, "I would have liked to the see the energy issue come up first before health care."
But when the interview shifted to the economy, Turner clammed up ("I'm not in the financial advice business," he said). It would be a theme of the discussion – Turner can talk for hours about topics he wants to bring to light, but clearly the finances of the country, or him personally, was not one of them
Then it was the time in The Situation Room to talk about the "the CNN situation."
Blitzer: You're no longer involved in CNN.
Turner: Unfortunately.
Blitzer: But you created CNN 30 years ago.
Turner: Yeah, I watch it every day.
Blitzer: What do you think?
Turner: You know, I'd like to see a little more international news.
He also lamented the loss of CNN's Science, Space, and Environmental Unit in December 2008 and said he wouldn't be surprised if the cabler merged with a broadcast network (CBS is the most recent possibility).
At every turn, Turner balked at talks of money. He wouldn't say more than one-word when Blitzer inquired about the winning bet he made when he started CNN, gaining enormous financial success from the gamble. When Blitzer discussed his billion-dollar philanthropic efforts, Turner appeared disinterested. The awkwardness was saved by a clear point of pride for Turner – CNN's coverage of the Gulf War. Turner and Blitzer recall the on-the-ground war coverage put CNN on the map for good. But it really opened the door for cable news as a whole.
Here's the full interview:

—–
» Follow Steve Krakauer on Twitter
Have a tip we should know? tips@mediaite.com