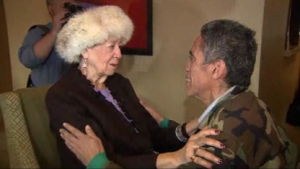 Expect to see and hear much more of Ted Williams (the "golden voiced" – or, for the sake of mixing things up, "platinum vocal chorded" – homeless man who has been all over the news as of late); Williams has been given yet another job offer: voicing a commercial for Kraft Macaroni & Cheese, filmed right after this morning's Today Show appearance.
And it seems that Williams' good fortune is personal as well as professional: The Bed-Stuy, Brooklyn native has been reunited with his mother, Julia Williams, over whom he shed some tears during his Today Show interview.
In fact, Williams could barely contain his emotion as he raced towards his mother and greeted her with a hug:

All together now: Awwwwwwwww(wwwwww!).
However, that happy reunion could have happened a whole lot sooner, a source tells us. Apparently, NBC, which is pretty much hosting Williams all day (he's also appearing on Late Night with Jimmy Fallon tonight) did not want other networks speaking with Williams, whom they'd flown in from Ohio. Meanwhile, CBS, who had lined up an interview with his mother, similarly wanted to keep other networks from scooping their interview subject. Finally, hours after Williams had landed in New York, the two networks organized for the two to reunite – footage of which you just saw above.

USA Today and The Columbia Dispatch – which broke the story on Williams – both also report that the networks' "wrangling" delayed Williams' reunion meeting with his 92-year-old mother.
Have a tip we should know? tips@mediaite.com