Tense: GOP Rep. Demands Andrea Mitchell Defend Democrats Keeping Obamacare Perks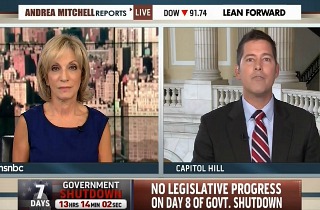 A heated exchange broke out on MSNBC on Tuesday when anchor Andrea Mitchell asked Rep. Sean Duffy (R-WI) to defend the government shutdown keeping the families of veterans who lost their lives in combat from accessing their benefits. Duffy turned the tables and pressed Mitchell to defend members of Congress keeping their benefits under the Affordable Care Act. "I think the media should start doing its job," he insisted.

The interview began cordially, with Duffy defending the House GOP passing a number of small continuing resolutions and attacking the Senate for not sending them to the president. Mitchell countered that those piecemeal funding resolutions miss the larger point:
The issue is not that this is a small matter, it's a very big matter, but so is the matter of the kids in head start. So is the problem of the single moms who aren't getting food stamps and their help. So down the road are survivors' benefits — that fund is going to run out in weeks if not months. So you can't take this piecemeal, congressman.
RELATED: Bernstein Whips Media for Blaming Both Parties for Shutdown: 'There are Facts Here'
"Isn't the issue that someone has to sit down and figure out what to do about the stalemate that has led to this disgrace?" Mitchell asked.
"You hit it on the head," Duffy replied. "The president has said I won't sit at the table."
"No," Mitchell replied. "He said that he will negotiate and negotiate a lot of things that you all want: tax reform, entitlements. He will negotiate once the threat of the government shutdown and debt default is not hanging over their heads. That's what he says."
"Andrea, that's ridiculous," Duffy shot back. "You're aware all we've asked for is the president and administration join us in Obamacare."
"That's a nonnegotiable demand," Mitchell insisted. "Why not sit down and negotiate over entitlement reform?"
Duffy pivoted to attacking the media, saying it was "pathetic" that no one in the press except for Comedy Central host Jon Stewart has pressed an administration member to defend the benefits presidential and congressional employees receive under the ACA.
"We've asked questions of both sides," Mitchell responded. "That's not fair."
"Why should members of Congress be under Obamacare and not the president," Duffy pressed. "Isn't that fair? Can you defend that?"
"I can't defend why the Congress and the White House can't figure out a way to reopen government," Mitchell replied.
"I think the media should start doing its job," Duffy concluded.
"Thanks for the advice," Mitchell signed off.
Watch the exchange below via MSNBC:
[Photo via screen grab ]
— —
> >Follow Noah Rothman (@NoahCRothman) on Twitter
Have a tip we should know? [email protected]