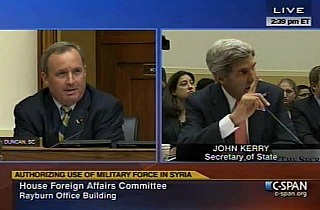 During House committee hearings relating to President Barack Obama's proposed intervention into the Syrian civil war, Rep. Jeff Duncan (R-SC) tore into Secretary of State John Kerry over the administration's "credibility problem" which he said stems from their response to the attack on a consulate in Benghazi. Duncan insisted that the White House's reluctance to provide support for American service personnel in Benghazi suggests that the House should not approve action in Syria and invite history to repeat itself.

"I cannot discuss the possibility of the U.S. involvement without talking about Benghazi," Duncan began. "The administration has a serious credibility issue with the American people."
RELATED: From Cheney to Matthews: The 9 Most Unexpected Reactions to Syria
He produced a picture of Tyrone Woods, a slain Navy SEAL who lost his life in the Benghazi attack. He raised his voice describing how his constituents, including a class of 8th graders, told him that America has no national interest in intervening in the Syrian civil war.
"The same administration that was so quick to involve the U.S. in Syria now was reluctant to use the same resources at its disposal to attempt a rescue to four brave Americans that fought for their lives in Benghazi," he insisted.
Kerry replied forcefully. "I'm not going to sit here and be told by you that I don't have a set of — a sense of what the judgment is," he replied. "We are talking about people being killed by gas and you want to go talk about Benghazi and Fast and Furious."
"This is not about getting into the Syrian civil war," he continued "This is about enforcing the principle that people shouldn't be allowed to gas their citizens with impunity."
"And if we don't vote to do this, [Bashar] Assad will interpret from you that he's free to go and do this any day he wants to," Kerry concluded.
Watch the clip below via C-SPAN:
[Photo via screen grab ]
— —
> >Follow Noah Rothman (@NoahCRothman) on Twitter
Have a tip we should know? tips@mediaite.com