Scarborough Blasts Obama for Praising 'Romney Care' After Accusing Him of 'Murder,' Mika Squirms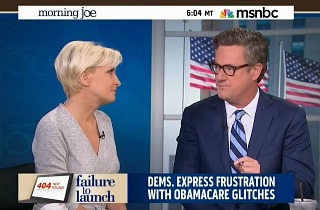 MSNBC host Joe Scarborough tore into President Barack Obama and his administration on Friday for his effort to link the roll-out of the Affordable Care Act to his 2012 general election opponent, former Massachusetts Gov. Mitt Romney. Scarborough said it was the height of hypocrisy for Obama to attempt to rehabilitate Romney's health care record after his campaign essentially accused him of causing the death of a woman.

The MSNBC hosts began by noting that Friday marked the first full month after the debut of the ACA's insurance exchanges. They cited a CBS News report which revealed that the government saw six people sign up for the program on its first day.
"This is their landmark achievement, they've had two years to prepare for it, and only six people can enroll?" Scarborough asked.
"That's a bad headline," Mika Brzezinski said. "I don't think that's the case now, but let's see."
She said that the White House is citing the Massachusetts model where small numbers of people enrolled initially but more began to sign up towards end of the open enrollment period.
RELATED: Only Six People Signed Up for Obamacare on First Day, and Megyn Kelly is Shocked
"The same man that accused Mitt Romney of killing a woman – remember that?" Scarborough asked Nicolle Wallace. "Mitt Romney killed my wife. He's such a beast, such a horrible human being. Mitt Romney killed my wife. Barack Obama claimed that."
Brzezinski countered that a group only peripherally affiliated with the president's campaign ran that ad, but Scarborough continued press the point.
"The story's bad enough, you don't need to do that," Brzezinski pleaded. Scarborough insisted he would continue with his point. He said it was inappropriate for the president to attempt to mitigate the political damage the ACA roll-out is doing his administration by linking it to the law Romney signed in Massachusetts.
"It's absolutely staggering," Scarborough said.
"It's not lost on the public," Wallace replied.
"I think his pattern of being a bystander when things are going badly," she continued, "the public has started to see through this."
Watch the clip below via MSNBC:
[Photo via screen grab ]
— —
> >Follow Noah Rothman (@NoahCRothman) on Twitter
Have a tip we should know? [email protected]