'Terrible': Scarborough Goes After White House For Making 'Sort Of Mistake Republicans Usually Make'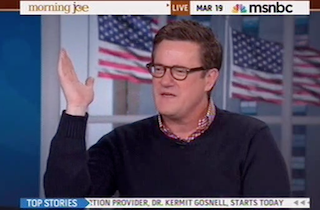 Going through some recent stories today, Morning Joe included the Washington Post piece about the potential cancellation of the White House Easter Egg Roll. It hasn't been nixed yet, but the report was enough to frustrate Joe Scarborough who linked the issue with the the cancellation of White House tours. These are the type of mistakes Republicans usually make, he argued — and it won't end well.
The Post story notes that the tickets for the event warn that "guests are acknowledging that this event is subject to cancellation due to funding uncertainty surrounding the Executive Office of the President and other federal agencies" (i.e., sequestration).
"This is such a terrible, terrible, move on the White House's part. They think they're being cute here," Scarborough asserted, but it's "going to blow up in their face."
He linked it to the recent story about the White House being open to top donors (through OFA) but not to children who want tours. "This is the sort of the mistake Republicans usually make," he added, "where we usually a decision and we don't think one or two steps ahead."
"They've already lost the PR battle with the sequester," he continued. Richard Haass agreed: The administration toned down their apocalyptic message, but this shows that someone didn't get the memo.
"They need to stop doing this," Scarborough pressed, adding that kids should be able to tour the White House. "They're only hurting themselves…setting themselves up for failure."
If they wanted money for it, Haass added, some volunteers would surely pitch in.
A "terrible mistake," the table seemed to agree.
Take a look, via MSNBC:

Have a tip we should know? tips@mediaite.com