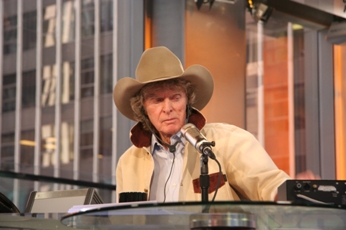 Fox Business Network turns two-years-old later this month, and the biggest star on the young channel makes his debut this morning.
But it's a familiar face – Don Imus' radio program will be simulcast from 6-9amET. Imus on a business channel: will it work?
"I believe it's a perfectly compatible audience," FBN executive vice president Kevin Magee tells Mediaite. "Don does a smart show. These are people who are curious intelligent and affluent. And that sounds like the same kind of audience we attract to Fox Business. I think it's going to mesh like a couple of cogs turning."
FBN has taken steps to ensure the show has a business vibe. There will be business updates every 15 minutes from FBN anchors Jenna Lee and Connell McShane, and the duo will host a web morning show, with Ashley Webster, on FoxBusiness.com during the block. And it's not like Imus doesn't talk financial news at all – when the story broke about Ken Lewis leaving Bank of America, he spent a segment on the topic (obviously with his own unique point of view).
It is this unique point of view that has been successful for Imus for so many years, developing a devoted and vast fan base. Of course, it is this unique point of view that can sometimes get him in trouble – which caused his exit at MSNBC and CBS radio in 2007. How will Magee handle the free-wielding host? "We know what we got when we bought it," he says. "We talk to Don and his production team all the time. It's an open mic and Don is terrifically unpredictable."
The addition of Imus could begin to make FBN a true competitor with longtime biz news leader CNBC. FBN's most recently reported ratings fell around an average of 21,000, with the mornings actually doing worse. Imus could conceivably increase that average during his show by 100% or more. "We had a lot of buzz when we launched, but since that point we've added a lot distribution-wise," said McShane. "The problem is people don't necessarily know they get the network. This adds awareness because people will come to watch him."
FBN is now seen in about 50 million homes, while CNBC has nearly double that number. But adding Imus now would allow FBN to hit CNBC while its down. Their ratings are down 37% year-to-year, and their 6amET show, Squawk Box is doing far worse. In fact, the morning show competition is currently soft – besides Fox & Friends no morning show averaged more than 400,000 total viewers. (You can see the September ratings chart for each show here.)
But since Imus' most recent foray into cable news was on MSNBC, some have speculated about the FBN product being a specific competitor with Morning Joe. "I think that was invention of a writer who probably based it on the fact that don used to be on MSNBC," says Magee. "We're trying to carve out our audience and get our own thing."
NEXT: What will the other morning show at FBN be like?
Have a tip we should know? tips@mediaite.com