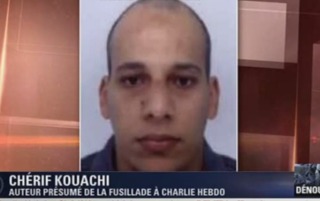 Before they were both killed by police in separate raids, suspected terrorists Chérif Kouachi and Amedy Coulibaly spoke to BFMTV and indicated they carefully planned their "operations" and were loyal to radical Islamic networks in the Middle East.
Kouachi and his brother Said had escaped Paris after the Wednesday attack on Charlie Hebdo's office, leaving 12 people dead. They holed up in a Dammartin-en-Goele industrial park, taking one person hostage, until police swarmed and killed them. Coulibaly was the gunman who took several people hostage at a Kosher grocery in Paris, hours after killing a policewoman in the city. He was also killed when police raided on him.
Both men indicated their attacks were coordinated to a degree. "We were just synched for the beginning," Coulibaly told the French news outlet. "When they started at Charlie Hebdo, I started to do the policemen,"
"I was sent by al Qaeda in Yemen," Kouachi said in a separate interview. "It's Anwar al-Awlaki who financed me," he added, referring to the al-Qaeda leader killed by a U.S. drone strike in 2011. "We are the defenders of the Prophet," he declared, likely in reference to the Hebdo cartoons that made caricatures of the Muslim prophet Muhammed.
Coulibaly claimed he was affiliated with the Islamic State, the extremist group widely referred to as ISIS or ISIL which has taken over portions of Iraq and Syria.
Watch the interviews below. Kouachi starts around 40 seconds into clip, Coulibaly begins around 3:30:
— —
>> Follow Andrew Kirell (@AndrewKirell) on Twitter
Have a tip we should know? tips@mediaite.com