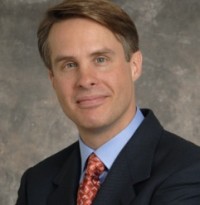 Many changes are about to take place at ABC News, as Charlie Gibson officially signs off as anchor of World News December 18.
If George Stephanopoulos gets Diane Sawyer's GMA gig, Nightline anchor Terry Moran could be the odds-on favorite at This Week.
Since the announcement in early September that Gibson would be leaving World News and Diane Sawyer would take over, the implication was the transition would take place in early 2010. Now it appears the timetable has moved up.
The New York Times' Brian Stelter reports Gibson would step down on the 18th, while Sawyer would leave GMA December 11. The low-key nature of the hand-off leads Stelter to conclude, "The strategy could be called the anti-Katie — a reference to the breathless attention devoted to Katie Couric's move to the CBS Evening News chair in 2006."
But if the favorite to take over for Sawyer, Stephanopoulos, is named her successor – and all signs continue to point to it being true – would Stephanopoulos make the switch on December 14? If so, he would have to give up the This Week job this month as well.
One name we've heard for the This Week job is Terry Moran, one of the three current Nightline anchors. It would make sense – he's in house, has been with the network for more than a decade and has conducted several high profile interviews (including a few with candidate Obama). A top ABC insider tells Mediaite, "It is way premature to be thinking about succession at This Week. We're focused on succession at GMA right now."
But if Stephanopoulos is the replacement named next Friday, they go hand-in-hand. If not, another choice at GMA would be Chris Cuomo, currently an anchor with the show. It would be the easiest transition, but also the most splash-less. The question becomes who moves into Cuomo's role, which could be someone from the weekend edition of GMA, like Bill Weir or Kate Snow.
But if Stephanopoulos is named to GMA, his This Week replacement becomes a big story. And if it is Moran, does Nightline add a third anchor (meaning another high profile replacement at ABC News) or do they stick with two anchors? There are still a lot of unanswered questions, but we'll know the answer to some within the next two weeks.
—–
» Follow Steve Krakauer on Twitter
Have a tip we should know? tips@mediaite.com