Testy, Combative Anthony Weiner Simply Cannot Shake Steely Cool of Fox's Megyn Kelly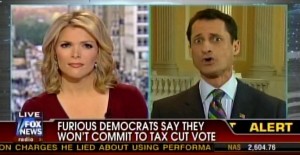 It seems you just can't shake the cool from Fox's Megyn Kelly. We know, because on America Live today, Rep. Anthony Weiner gave it his best shot.
In a eleven minute segment that started as a discussion of President Obama's deal on tax cuts, a very testy Weiner criticized the president for "not fighting hard enough."
But as the conversation drifted to the estate tax, Weiner seemed to have no patience for Kelly herself, interrupting, sighing, looking away, clapping his hands and clearly crossing the line into condescension:

KELLY: You mentioned the estate tax twice, so I do want to ask you about it. The argument from the other side is that it's a morally corrupt tax. I don't have a five million dollar estate–I'd like to some day–but if I work all my life and I pay my taxes on my income and then I die and I want to pass on what would be great if it were a five million dollar estate to my kids, why should I pay the government again? Why should there be a 35 or 45 or 55 percent tax on that again?

WEINER: You aren't paying anything in that case because you'll be dead.

KELLY: The estate is, and that's less for my children.

WEINER: The only question is… look.

KELLY: No, you're not… Answer my question. How is that fair?

WEINER: Megyn, Megyn… Megyn, you're going to have to let me answer the question. We're going to have a conversation that gets us anywhere.

KELLY: Go ahead.

WEINER: The only question here is not whether or not there should be a tax on that, the question is where the limit should be and how much should…

KELLY: No, I'll ask the question and you're not answering. Just tell me how it's fair.
Weiner, who never did answer that question, opted to pause, look around the Capitol and clap his hands before returning to camera and asking, "Ready?"
You get the feeling Weiner might've walked off after the interview and kicked a garbage can. And yet through it all, Kelly kept cooler than most of us can even get on vacation. It's a clip that's definitely worth a look, from Fox:
Watch the clip of the most heated moments below:

Watch the full interview below:

Have a tip we should know? tips@mediaite.com