Texan Judge Quits GOP: 'Smallest Minds' Make the 'Loudest Noise in the Republican Party'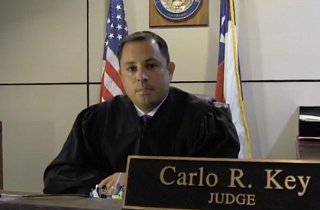 A Republican judge running for re-election in Bexar County, Texas, announced this week that he is leaving the GOP because of the government shutdown and a variety of social issues.
In a campaign ad, Carlo Key declared his switch to the Democratic Party, citing the belief that his former party "demeans Texans based on their sexual orientation, the color of their skin or their economic status."

Key is currently Bexar County's Presiding Judge of Criminal Court at Law Eleven. Speculation that he'd switch parties began several months ago when he was spotted at a fundraiser for Democratic State Senator and gubernatorial candidate Wendy Davis.
"For too long, the Republican party has been at war with itself," he said in the ad. "Rational Republican beliefs have given way to ideological character assassination. Pragmatism and principle have been overtaken by pettiness and bigotry."
He also made clear his support for Obamacare and an opposition to the government shutdown tactics his party used at the national level in order to defund the healthcare law:
"I cannot place my name on the ballot of the political party that is proud to destroy the lives of hundreds of thousands of federal workers over the vain attempt to repeal a law that would provide health care for millions of people throughout our country."
In a statement, he explained his decision further: "As the smallest minds continue to make the loudest noise in the Republican Party, true leaders will be driven by their principles and values to become Texas Democrats."
Watch the ad below:

[h/t TPM]
[image via screengrab]
— —
>> Follow Andrew Kirell (@AndrewKirell) on Twitter
Have a tip we should know? tips@mediaite.com