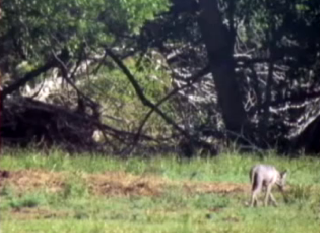 In March 1995, on the island of Puerto Rico, a poor witness found eight sheep dead, dried out, and with mysterious markings. As is the case with most mass killings of animals, locals used Occam's Razor to determine the obvious cause of their deaths: aliens! It's been a good decade and a half since the Chupacabras story first appeared, but the legend keeps on keepin' on, even when the "witness" admits he doesn't believe the thing exists.
The latest Chupacabra sighting occurred in Texas, where a hairless creature with canine features was spotted around a field. Texan paper The Facts was first to put the Chupacabras on its cover (this the day before Rep. Ron Paul gave them his exclusive announcement he would not seek Congressional office again), and the story eventually made it to ABC News, where the man who spotted the "chupacabra," Jeff Crabtree, explained to the cameras that he… did not believe it was a Chupacabra.
While he did note most people's reactions were to say "I've never seen a dog like that," he argued that it was a coyote with mange, and that it was surprising to him that this became a story at all. It is worth noting that this Chupacabra scare didn't even have dead sheep in it, or any evidence of bloodsucking. Nonetheless, at press time, "chupacabra" was the #3 most popular search on Google Trends, right there between "Hulu Plus" and "Carmageddon" ("debt ceiling" comes in at #8). It's not August yet, but you'll be hard-pressed not to see the similarities between the report below and this one courtesy of The Onion from last year.
The report via ABC News below:

Have a tip we should know? [email protected]