Texas Guv Greg Abbott Asked if Ted Cruz Will Win Texas: 'I Won't Go Out on a Limb'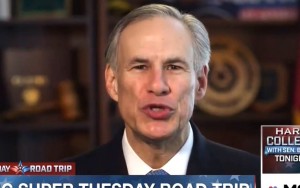 Apparently, being a campaign surrogate is a lot harder than it looks. With polling all over the map in his must-win home state of Ontario Texas, Senator Ted Cruz (R-TX) picked up a big endorsement this week from Texas Governor Greg Abbott. Cruz desperately needs to win there on Super Tuesday in order to remain a credible candidate in this race, but a new Survey USA poll has him tied with Donald Trump at 32%, with Marco Rubio a distant third that he will still brag about.
On Wednesday, though, Governor Abbott may have undercut his endorsement of Cruz a wee bit when MSNBC's Chris Jansing asked him if Cruz will win Texas next Tuesday, and Abbott managed to think of a wrong answer for that exceedingly easy question:
"You know, I'm not going out on a limb and predict. I can tell you, from having traveled the state of Texas, Ted Cruz enjoys a widespread level of support here. So I think things look good for him. But, certainly, I'm not a poll reader. I'm not someone who can tell you exactly what's going to happen. I do have a good feel that things are going to go well for Ted Cruz, though."
This is not that complicated. Nobody's asking you to put money on Cruz, you're not being auditioned for a job as a poli-sci professor, you're a Ted Cruz surrogate, your job is to say "Of course he's going to win!" There won't be any sort of penalty for you if he doesn't.
If you'd like to read into Abbott's answer, as Jansing did, then it certainly seems to indicate that the tighter of the recent polls in Texas may be closer to the truth, an uncomfortable truth for Ted Cruz.
Have a tip we should know? tips@mediaite.com