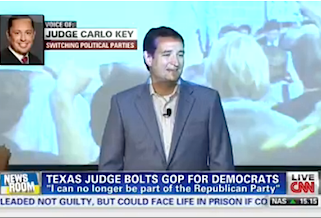 The Republican judge running for reelection in Texas' Bexar County joined CNN's Brooke Baldwin Tuesday afternoon to elaborate on his decision to leave the GOP and become a Democrat. Carlo Key did not hesitate to admit that the presence of Sen. Ted Cruz (R-TX) in the Republican Party was "absolutely" a factor in his switch.
In a video Key released to make his announcement, he said he could no longer be part of a party that "demeans Texans based on their sexual orientation, the color of their skin or their economic status." Since he also cited the government shutdown as a reason for his change in party, Baldwin asked him about Cruz, who became a crucial player in that fight. "Did the Ted Cruz strategy, what we saw play out in Washington the last couple weeks, really hailed as a hero to a lot of Republicans, did that have any bearing on your decision to quit your party?"
"I have to say absolutely," Key replied. "The tea party represents one of the most extreme positions of the Republican Party." He admitted that in the San Antonio area where he serves as an elected judge "there's a lot of support" for that movement.
Baldwin pushed Key to determine whether there are any alternative reasons that he may have decided to switch to the Democratic side, including that fact that he is being challenged from the right in the primary. "Will running now as a Democrat make your path to reelection a little easier?" she asked.
"I would say honestly, it's not to a politician's best interest to run as a Democrat down here," Key said. "But, you know, unfortunately I felt like that is what I had to do. This is a personal decision. Anyone that says I'm doing that to gain advantage doesn't know very much about political history down here in Texas."
Watch video below, via CNN:
And watch Key's original announcement video below:
[photo via screengrab]
— —
>> Follow Matt Wilstein (@TheMattWilstein) on Twitter
Have a tip we should know? tips@mediaite.com