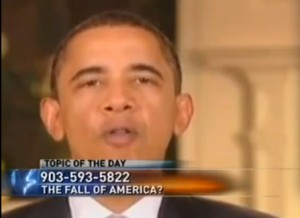 When East Texas NBC affiliate KETK says their slogan is "News You Won't See Anywhere Else," they mean it. Take, for instance, a bizarre turn this morning, when they checked in with KTBB radio host Garth Maier to dicuss the 'Topic of the Day.' Those hoping to talk about traffic or weather were disappointed to find that Maier instead had something far more troubling on his mind: "Will the acceptance of gays destroy America?"
What brought about such a reasonable and fairly worded question? In Maier's words, "Everybody's whispering about it, we're talking about it." As he repeatedly reminded us, Obama "has already appointed more openly gay government officials than any other president is U.S. history," Howard Taft included. That, combined with a recent study revealing that "one in ten teenagers now have a same-sex partner" — double the percentage from ten years ago! — proved to be simply too much for the journalist to handle. So he looked to callers for help.
As one might expect, the responses ran the gamut. One said, "Homophobia is the new racism," while another confirmed that "Yes, the gay issue definitely will be a downfall of America. Obama has to go."
There were many more callers with many more answers, but none of them seemed definitive enough to satisfy Maier. Perhaps you have some inside information on whether the acceptance of homosexuality will be the downfall of our country? If so, call 903-593-5822 to speak to Maier, because he absolutely must know.
(H/T JoeMyGod)
Have a tip we should know? tips@mediaite.com