Thank the Lord! Christian School Won't Expel Black Girl for Having Black Hair!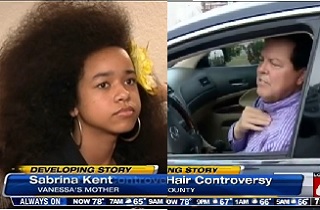 It's going to be a great Thanksgiving after all, thanks to the generous administrators at Faith Christian Academy in Orlando, Florida. No sooner had the story of 12 year-old Vanessa VanDyke's possible expulsion from the school due to her "distracting" natural hairstyle whistled up a storm of outrage on the internet when the school decided to back down on its demand that she cut her hair or face enshunment. They still want Vanessa to "shape or have her hair cut," but they won't expel her over it.
The story unfolded last week when a plea for help from the school apparently whiplashed into a threat of expulsion:
The adorable miscreant is Vanessa VanDyke, a student at Faith Christian Academy in Orlando, whose parents asked the school to intervene after other students started teasing her about her big gorgeous hair. So the school administrators took quick action: They told Vanessa and her parents that she was in violation of the dress code, which says

"Hair must be a natural color and must not be a distraction," and goes on to state examples that include, but are not limited to, mohawks, shaved designs and rat tails.

…Vanessa is justifiably proud of her impressive head of hair, but not delighted about the basic reaction of all middle-schoolers to anything that is slightly different from anyone else:

"It says that I'm unique," said VanDyke. "First of all, it's puffy and I like it that way. I know people will tease me about it because it's not straight. I don't fit in."

She's been wearing her hair big and natural throughout the school year, but the administration only treated it as a problem after her family complained to the school about students teasing her.
"African American hair grows out," Vanessa's mother Sabrina Kent told Orlando's WKMG.  "It doesn't grow down.  Her hair is her hair.  What am I supposed to do?"
Maybe nothing, as it turns out. WKMG Orlando's Eric Sandoval (the king of hot-button Orlando stories) reports that since his station's report went viral, the school has eased up a little, ratcheting down their demands, and taking expulsion off the table.
"The pastor Karl Stevens is quoted in e-mail as saying 'I'm going to strongly encourage you to consider the school's request, and at least shape or have her hair cut. That, i believe, will resolve the issue,'" Sandoval reports, "but the school contradicted that, saying 'We're not asking her to put products in her hair or cut her hair. We're asking her to style her hair within the guidelines according to the school handbook.'"
As Sandoval notes in his online report, however, "The handbook does not cite large or frizzy hair, noting only, 'Mohawks, shaved signs, rat tails, etc.'"
He added that "Now, Vanessa and her mother are going to be talking about their options as they celebrate the Thanksgiving holiday. This school is now officially in Thanksgiving break."
Asked if the school is still threatening Vanessa with expulsion over this, Sandoval replied "The original communication with her parents was, indeed that, cut or style her hair or she'll be expelled. The school said this evening they will not expel her over her hair, in a statement they released this evening."
The issue of natural hair is a sensitive one in the black community, but come on, this is a Christian school. What could they possibly want to do with hair that is remotely like wool?
Here's the clip, from WKMG:
[photo via screengrab]
(h/t Wonkette)
Have a tip we should know? [email protected]