'Thank You, Peter': Karine Jean-Pierre Zings Peter Doocy for His Report on Biden's Trip to Hanoi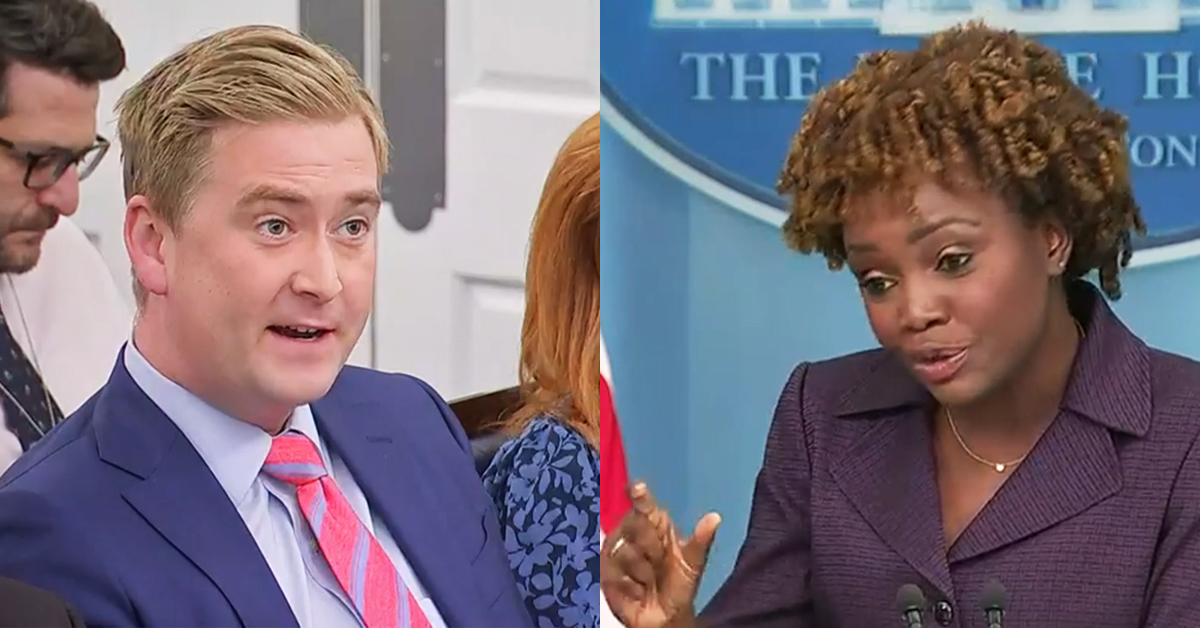 White House Press Secretary Karine Jean-Pierre appeared to give Fox News' Peter Doocy a bit of a good-natured zing on social media Sunday afternoon, which puts President Joe Biden's "I'm going to bed" press conference remarks in greater context.
Doocy reported live from Hanoi, where Biden took questions from selected reporters and appeared to be committed to staying on script of only asking pre-selected reporters before ending the Q&A session by admitting he was tired.
Doocy appeared on Fox & Friends Sunday live moments before Biden spoke and was asked by Will Cain, "What can be expected from this? Is it a Q and a, a set of statements from a short statement here?"
"As many questions as he wants to take," Doocy replied. "He has been basically working all through the night. The equivalent of an all-nighter, Eastern time. So, he's probably pretty tired, jet lagged, but he should take at least a few."
This 10-second moment was captured by Aaron Rupar, who added a note that read, "You can see the exact moment when Peter Doocy realizes he just demolished one of his own network's talking points."
Jean-Pierre quote-posted the clip on X (formerly Twitter), adding, "Thank You, Peter."
Biden's age and mental acuity have been something of a political talking point in the run-up to the 2024 election and not just by his potential rival in the general election, former President Donald Trump, but also among Democratic voters, according to recent polls. 
His mumbling end to his Hanoi press event that included "I'm going to bed" is being seized upon by Republicans "pouncing" because, well, having a sitting president publicly prioritizing bedtime — even jokingly — isn't a great look?
Have a tip we should know? tips@mediaite.com
Colby Hall - Founding Editor