Thanks To Michael Douglas, Megyn Kelly Spent 5 Awkward Minutes Talking About Cunnilingus On Fox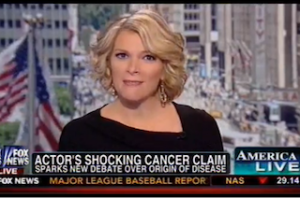 "Certain sexual activity down south in Rio." That's the euphemism Fox's Megyn Kelly chose this afternoon during a segment about HPV and the surprising way actor Michael Douglas claimed he contracted throat cancer. Kelly struggled a bit through the uncomfortable daytime discussion finding various ways to describe the act of oral sex on a woman without actually saying the words.
"In a new interview," Kelly began, Michael Douglas reveals that his cancer was apparently caused by a sexually transmitted disease. "I apologize for the viewers for being squeamish about this, but it is 1:45 in the afternoon and people watch with their children. So he claims that a certain sexual activity down south in Rio, as we say–that's south of the border, on a woman's body–led him to contract throat cancer."
Kelly's guest, gynecologist Dr. Tara Allmen attempted to shift the conversation to the larger issue of the Human papillomavirus or HPV, that Douglas indicated he had contracted from his wife, actress Catherine Zeta-Jones. "His particular throat cancer," she explained, has been associated with the HPV virus," which he could have contracted 10-15 years before his diagnosis.
When Allmen advised that people should be alarmed by Douglas' statements and should continue to "practice safe sex," Kelly raised a red flag, saying, "yeah, but people don't really practice safe sex when they're performing this particular sex activity, a man with a woman."
By the end of the segment, after the two women had reviewed the various vaccination options for prevention, Kelly breathed a sigh of relief and declared, "I think we did OK on that, for 1:45." Turning to the camera, she said to her audience, "And thank you for bearing with us because this is an important subject."
Watch video below, via Fox News:
—
>> Follow Matt Wilstein (@TheMattWilstein) on Twitter
Have a tip we should know? tips@mediaite.com