'That Guy Has A Lot Of Guts': The Five Panel Celebrates Conservative Doctor Who Criticized Obama To His Face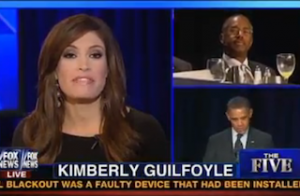 The Five kicked off their Fox News show today with a look at Dr. Benjamin Carson, the pediatric neurosurgeon who spent 25 minutes at Thursday's National Prayer Breakfast outlining his opposition to President Obama's policies… while President Obama was sitting next to him.
After playing some highlights from Carson's scathing speech, including his alternative to Obamacare, host Kimberly Guilfoyle played a clip of Rush Limbaugh's praising the doctor: "This is the kind of thing the Republican party should have been saying for the past four years."
Greg Gutfeld then launched into a sarcastic "tirade" against Carson, calling him a "moron" who "operates on the brains of babies. I would rather take advice from Sandra Fluke… someone who has been on the planet for 31 years fighting for free pills."
Eric Bolling also had plenty of kind things to say about Carson's appearance, saying "to take down the president of the United States sitting, you know, five feet away, man, that guy has a lot of guts. And his ideas are right."
Next up, Dana Perino said she agreed with Carson's points, and added some historical perspective to the conversation. "I do remember during a prayer breakfast in the Bush administration," she recalled, "one of the speakers talked about the Iraq war, and made comments that some people could take as critical of President Bush. That was a big huge story about 'oh, somebody finally had the guts to stand up to President Bush at the prayer breakfast.' I don't really see it as being that different."
Meanwhile, Bob Beckel disagreed with the panel, calling Carson's display "disgraceful." He continued, saying "It's a prayer breakfast, it's supposed to be bipartisan. It's not a place to give political statements… I thought it was inappropriate, it was mean, and so far out of place I can't believe it."
But Bolling and others shot back that if President Obama won't show up at CPAC or Fox News, then his critics will be forced to confront him on "neutral turf." And Perino made a sly analogy to President Obama's 2011 speech on the deficit during which he criticized Rep. Paul Ryan who was sitting in the front row.
Gutfeld steered the conversation to another person who's been on Rush Limbaugh's mind lately: Paul Krugman. Gutfeld found some parallels between what Carson and Krugman said about "death panels" this past week.
The panel also revealed that Carson will be appearing on Hannity tonight, where many of these issues will no doubt be addressed further.
Watch video below, via Fox News:
—
>> Follow Matt Wilstein (@TheMattWilstein) on Twitter
Have a tip we should know? tips@mediaite.com