'That Is Just Not Accurate!': Trump Supporter Brushes Off Paul Ryan's Seeming Discomfort With Trump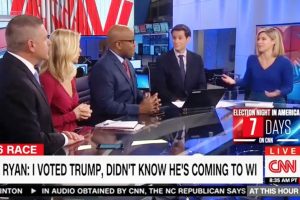 That oh-so-awkward moment when House Speaker Paul Ryan admitted he voted for Donald Trump was the subject of a segment on CNN's At This Hour this morning. As you can expect in these days of "GOP Civil War," it was sort of uncomfortable.
Errol Louis pointed out that Ryan hadn't realized Trump was on his way to his home state of Wisconsin because he has been living by a policy of simply not appearing on-camera with Trump "for a few weeks now." Kate Bolduan offered up that Trump probably didn't want to appear with Ryan, either.
He explained that as just part of the "schism" affecting Republican leaders who are not happy about Trump being their nominee and referenced that "civil war" of the GOP's.
Louis moved on to explain that Ryan's seeming discomfort with the optics of his Trump support was not much different than John Kasich revealing he all but "threw away" his vote this year by voting for John McCain.
"We never really quite knew what the impending civil war was going to look like; it starts to look like this. You have people doing strange things…"
Trump supporter John LaValle said that was "just not accurate," and insisted that it isn't the job of the Speaker of the House to "follow the presidential candidate around the country."
Obviously, there's room to disagree on this one and we won't know the real story until Ryan writes a tell-all book one day.
[image: screengrab]
Have a tip we should know? tips@mediaite.com