'That Really Pisses Me Off!': Fox Reporter Chases Down Union Rep For Blocking Interview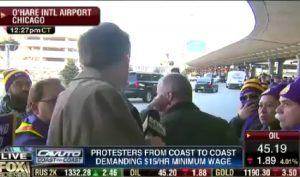 During a live segment on Fox Business today, a reporter chased down and confronted a union representative for telling a striking worker not to speak with the network.
While reporting from a Fight for $15 protest at O'Hare Airport in Chicago, Jeff Flock tried to do a quick interview with a woman named Diana who had already told him that she worked for a contracting company for 16 years and still only made $11 an hour.
However, as he tried to speak to her on-air, she told Flock that she was "advised not to talk to you guys." She indicated it was due to a man nearby, who Flock identified as a rep from SEIU, the service workers union.
Flock focused his attention on the man, who kept his back to the camera and walked away from the reporter.
"Hey, why don't you turn around and have the courage to turn around and talk to me instead of trying to stifle peoples ability to talk," Flock shouted at the man.
He continued, "The woman had a good story to tell and you tried to cut it off so nice job, I'm glad you did that — but you're just on live television here on the Fox network."
After another man told Flock they weren't trying to stop Flock from interviewing anybody, the reporter shot back.
"Yeah you are doing that," he exclaimed. "This guy did it right here." Addressing host Neil Cavuto, Flock expressed his anger: "Don't like that at all, Neil. That really pisses me off!"
Flock then tracked down Diana and spoke to her for a few seconds.
Watch the clip above, via Fox Business.
[image via screengrab]
–
Follow Justin Baragona on Twitter: @justinbaragona
Have a tip we should know? tips@mediaite.com