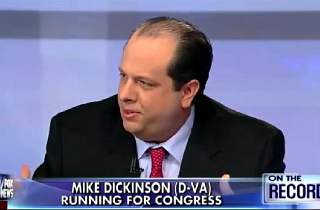 Cable news and the Internet have many things in common, one of which is that they are both populated by lots of shameless attention-seekers. Perhaps it's time to count the supposed Democratic House "candidate" Mike Dickinson — he of "war on Fox News" fame — as one of them?
Dickinson has made a bit of a name for himself this year by claiming that, if elected to Eric Cantor's House seat, he will wage war on the NRA, the tea party, and Fox News. Since then, he's been in multiple Twitter wars and has appeared on Fox for confrontations with Sean Hannity and, on Thursday evening, Greta Van Susteren.
During his appearances, Fox labeled Dickinson as "(D-VA), Running For Congress."
Just one problem with that: He's not. At least not as a Democrat.
On Thursday morning, the Virginia 7th Congressional District Democratic Committee announced that it would cancel this year's nominating convention, because no one had filed to run against incumbent Republican House Majority Leader Eric Cantor.
The filing deadline — Thursday, April 10th, at 5:00 p.m. — passed by without any forms submitted by Dickinson. The committee's chair tells Mediaite that he notified the party at "last minute" that he was not going to file.
None of that was disclosed by Dickinson when he appeared on Fox News last night. (UPDATE: The committee chairwoman provided us with emails that show her requesting that Dickinson "let the show know that [he is] not a Democratic candidate.")
He never bothered to correct Van Susteren's introduction of him as a "Democratic congressional candidate." Nor has he corrected any of the articles about his appearance that label him a "Democratic candidate." Yet he is more than happy to promote articles about himself:
Thank you @HuffingtonPost @HuffPostPol

— DickinsonForCongress (@VoteMike2014) April 11, 2014
.@VoteMike2014 RT @Mediaite Greta Van Susteren Confronts Dem Candidate Who Declared 'War on Fox News' http://t.co/XfsDkybWBp (VIDEO)

— RVA Blue (@RVABlue) April 11, 2014
And he sure seems to love the attention:
Another major national media show coming soon! Two more actually. Thank you thank you thank you!!!!

— DickinsonForCongress (@VoteMike2014) April 11, 2014
Im sorry I can't do internet radio shows. Only national media and 7th district media.

— DickinsonForCongress (@VoteMike2014) April 11, 2014
We've reached out to Dickinson for comment, but have yet to hear back.
We've also updated our article on the Van Susteren segment to reflect that Dickinson was not actually a "Democratic candidate" for office.
— —
>> Follow Andrew Kirell (@AndrewKirell) on Twitter
Have a tip we should know? tips@mediaite.com