'That Was BS': CNN's Baldwin Rips Into Cruz for Throwing Her Network 'Under the Bus'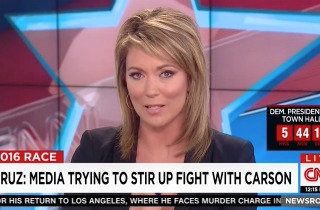 As Mediaite's own Tommy Christopher wrote yesterday, CNN should not have broadcast a Ted Cruz statement that was so inaccurate about a CNN report. And CNN's own Brooke Baldwin showed today she has no patience for anyone making up stuff about her network.
In case you're not caught up: on Monday night the Ben Carson campaign said the candidate is taking a break from campaigning to go back to Florida. This news broke while the Iowa caucuses were going on, and the Cruz campaign elevated reporting with the intimation that Carson may be dropping out, even though the Carson camp was quick to vociferously deny it.
Cruz apologized and blamed CNN for misreporting that Carson was dropping out. But CNN's reporting said no such thing, simply that he would be taking a break from campaigning for a return to Florida.
Cruz reiterated that claim this afternoon, and minutes later Baldwin said she isn't happy that Cruz is trying to "throw my network and CNN under the bus":
"We reported it accurately and here are the facts. Dr. Carson's staff told us that he would return home to Florida to, quote unquote, take a breath from the campaign… That accurate report was disseminated on television and CNN digital and that was that. That was that…

"When somebody tries to take down the media and misreports something, that gets me mad."
As she spoke to Cruz-backing Republican congressman Mark Meadows, Baldwin further explained, "I'm going to call out BS when I hear BS. And that was BS."
UPDATE –– 7:23 pm EST: CNN has a statement out tonight emphasizing that the Cruz campaign's claims are false:
Strong new statement from CNN about Cruz/Carson dust-up: "Senator Cruz's claims about CNN are false…" pic.twitter.com/HA3zbqZ7ZE

— Brian Stelter (@brianstelter) February 3, 2016
Watch above, via CNN.
[image via screengrab]
— —
Follow Josh Feldman on Twitter: @feldmaniac
Have a tip we should know? tips@mediaite.com
Josh Feldman - Senior Editor