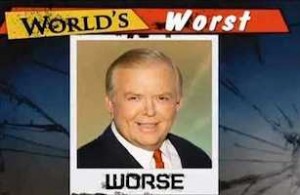 Shortly after Lou Dobbs announced his decision to leave CNN, he received his first going-away present: a "Worst Person in the World" bronze medal, courtesy of Keith Olbermann.
At 6:21 yesterday, Media Decoder broke the news that Dobbs would be leaving the network to "engage in constructive problem solving."
Amid early speculation that that meant he might be leaving media entirely (since when has media been constructive?), CNN President Jon Klein released a statement that Dobbs had decided "to carry the banner of advocacy journalism elsewhere," which revived old rumors that he might be headed over to Fox Business. Yesterday, a spokesperson for FNC and FBN told Mediaite that they had not had "any discussions with Lou Dobbs for Fox News or Fox Business."
So … how is a career decision that might not even result in Dobbs's winding up under the Fox umbrella (though that result is still the odds-on favorite) Worst Person-worthy? After reading Dobbs's press statement in his trademark 'spooky voice,' Olbermann justified it thusly: "you've just denied me that impression? How dare you, sir!" Olbermann also passed on the rumors that for the time being, CNN would do two hours of their 8pmET show (that would be Campbell Brown), and that Dobbs would be poached by Telemundo.
Broadcasting at 8pmET, Olbermann did not mention Klein's statement — which Mediaite posted at 7:45pmET — but the "Worst Person" segment still showed some pretty quick turnaround in incorporating something that had happened less than two hours before the show began.
Have a tip we should know? tips@mediaite.com