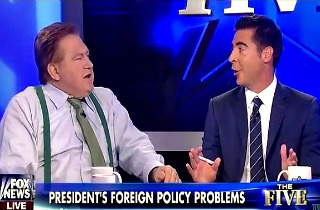 Fox News's Bob Beckel and Jesse Watters blew up on each other Monday during a discussion about U.S.-Russia relations and its impact on the international investigation regarding the shot-down Malaysian commercial airliner.
In a press conference that morning President Barack Obama accused pro-Russia separatists in Ukraine of tampering with the crash site near the Russian border. He called on Russian President Vladimir Putin to pressure the separatists to avoid tampering with evidence on the scene.
Watters asserted on The Five that Obama didn't want the U.S. to be the world's policeman because he "thinks most policemen are stupid" (a reference to the time Obama said a police officer had "acted stupidly" during an arrest of a Harvard professor). He also said the administration isn't serious about responding to the incident.
"Why don't they send investigators in?" Watters said.
Beckel pounced. "How the hell are they going to get there?" he said. "How are they going to get there when they have people (the separatists) shooting at them?"
"You said we have the most amazing army in the entire world now you say we can't go to Ukraine?" Watters retorted.
"No, we can't," Beckel said, slamming his fist on the table. "You want boots on the ground? You want them on the ground in Ukraine? If you want to be a war monger and go to Ukraine, do it."
"It doesn't mean I'm a war monger," Watters said. "It just means i want to protect the crime scene."
"That's bull," Beckel said.
Watch via Fox News:
[Image via Fox News/screen grab]
— —
>> Follow Eddie Scarry (@escarry) on Twitter
Have a tip we should know? [email protected]